Social media is a killer engagement tool
. And
it's not a fad
. If you want to build new and long-term relationships with your constituents – and who doesn't? –you can't afford to ignore the biggest tool out there since sliced bread. But… you CAN pick and choose.
Recently I've discussed
Twitter
,
Blogging
,
Pinterest
,
LinkedIn
and
Facebook
. There are many more options, but these are the core ones about which I speak with my clients. If you're using all of these effectively,
and
branching out into those
ginormous lists
of social media sharing sites, then God Bless You. However, for most of us it's more than enough to stick with the five I've highlighted.
Last fall I spoke about our need to
fully occupy
philanthropy
– i.e., the landscape in which we find ourselves today; one which lends itself well to social networking. But, let's face it. Not every nonprofit has the resources to be fully occupied. And it's better to be a few places and do it well than to be everywhere, but really… not there. Still, lack of resources is not an excuse for not
getting in the game
.
Here are some tips on how to choose the game you'll have the best chance to win.
Step 1. THINK LIKE A GIRL SCOUT
Where does your target market hang out? Don't go door-to-door with your Thin Mints and Samoas if everyone's shopping at the mall. If you really don't know where your peeps hang out, ask them. Randomly call or email 50 donors (it's best to choose those who give online for starters) and ask them what social networks they use. Make this a bonding activity in and of itself. Every time you connect personally with your donors, and ask them for their advice, it's a win. Folks love to help. They especially LOVE to give advice. So… try this: "You've been a supporter for a number of years, and we really appreciate all your help. We want to reach you with updates about our work in the most direct way possible, and would appreciate your letting us know your favorite ways to receive information online. It would also be really helpful to have your advice as we build our online presence."
THINK like your target audience. I know a lot of folks who joined Facebook to keep in touch with their grandchildren. But they seldom tweet or read blogs. What are the demographics of your folks?
TIP: When doing your research be sincere, and as direct as possible, with your target audience(s)

.

If you want to build your alumni network, let them know this is your goal and ask them which networks they favor. Also take the opportunity to ask them what kinds of services they might appreciate. Remember, social networks are social. It's not about you. It's about the target audience. It's about the customer experience. We're doing this to brand ourselves, and to bond with our constituents (those who value our brand). Ultimately, if we do it thoughtfully, social media engagement should lead to increased involvement and investment. These actions may in due course come through other venues (e.g. a person-to-person appeal); that's just fine.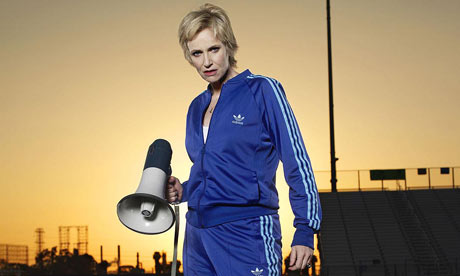 No one thinks outside the box better than Sue Sylvester!
Step 2. THINK LIKE A GYM TEACHER
How many players do you have in the locker room?
Do you have enough for a cheerleading squad, or should you stick with badminton? The smaller you are, the fewer sites you'll be able to manage. Duh. Don't beat yourself up. Start small. But start strong. If you've determined that your folks like Twitter, then commit to sending a killer tweet every day. If they frequent Facebook, post there once a day. Soon you'll get the hang of it and find it's pretty easy to message your folks 2-3 times a day. There are also tools that let you link your social media accounts so that when you post to one, it automatically posts to the others (I like
Buffer
).
THINK like you mean business. I know folks who love social media. But I also know folks who hate it so much it would be the last thing they would ever get to in their day. And when they did, they'd do a perfunctory job just to say they got it done. Who d
o you know who loves it?
TIP: When recruiting for your social media team, think outside the box.
It doesn't just have to be development and/or marketing staff. What about program staff who happen to love social media? Or board members or other volunteers? Or perhaps your interns (high school and college students live and breath this stuff)? Or maybe
outsourcing
makes sense for you? Many hands make light work, as long as you have a plan in place to assure everything stays coordinated.
In the next post we'll explore Steps 3 – 5: How to create an effective plan; How to manage that plan, and How to figure out the tastes of our different audiences. We'll also revisit the fundamental underlying purpose of all this social media. In the meantime, let us know who's on your social media team and how you get them to play together.