Oh, no… don't get lost!
Before we hit "publish" – whether it be a blog post, e-newsletter, online appeal or even a tweet or Facebook post – we should have made a list and checked it twice. In other words, we want to make sure we've included everything we intended to include. And we want to make sure we've done everything correctly. Why? Because otherwise our content gets lost. People don't find it. They don't read it. They don't act on it. It's just sad.
It's easy to learn the right way to do things, but in the press of our daily lives it's not so easy to practice what we've learned (or even what we preach; believe me, I'm guilty of not following my own advice far too many times!). I'm hoping by taking a moment to write down some simple basics, that I'll also remember to keep these best practices more top of mind. So, thanks for helping me out!
I'm going to write this from the perspective of your blog; because I think this is increasingly a central piece of everyone's marketing communications strategy. The principles can certainly be adopted for other media, however. Okay. Let's look at seven simple things that will make all of our work more worthwhile.
1. TITLE— It's very, very important. Headline copy is read by 8 out of 10. Only 2 out of 10 will read the rest.

Technically, it becomes the link when the post ranks in search engines. So use any key phrase you think folks will search on here, preferably towards the beginning of the title (the prominence of the key phrase is important to search engines; you'll notice my post is about 'blog content', so that's right at the beginning of the title). If the title is too long, it gets truncated (I've made this mistake!). It's best to be brief and pithy anyway, so limit yourself to eight or less words, or 66 characters.
Emotionally, the title is what captures folks' attention and even conveys a first impression sense of your brand. There are many formulas for creating good titles. Ones I find work especially well are those that (1) arouse our curiosity (e.g., "The Biggest Fundraising Mistake I Ever Made"); (2) entice us with the gift of a simple, useful and actionable list or "how to" (e.g. "Top 10 Ways to Improve Your Click-Throughs"; " 6 Tips to Raise More Money"; "How to Improve your Facebook Timeline"); (3) ask a provocative question to which we'd like to know the answer(e.g.,"How Do I Know What My Customers Want?"; "How Often Should I Post?"), or (4) say something so counterintuitive ("I Hate Apple Pie") or provocative ("Warning: If You Depend on Google for Both Traffic and Advertising, You Pretty Much Work for Google") that we really must click to see what the heck is going on.
Here are18 Resources to Help You Write Better Blog Titles, and a shout out to Alex at blogussion.com for doing the research for us.
2. KEYPHRASE – It's helpful to search engines.
I confess that this is the item on the checklist where I usually fall down. It makes me feel like I'm trying to "sell" something, rather than writing to teach/clairify – which are what my blog is all about! Plus it's work that I'm not particularly great at. Still I realize that if folks can't search and find the post then, ultimately, it won't be very helpful. So…
Try to include your keyphrasein the body of your article at least twice. Don't overdo it though, or you'll start to sound like a robot. This is known as keyword stuffing. Since the only good stuffing is at Thanksgiving, let's stay away from it the rest of the year. So I should use "blog content" or "content checklist" or "blog content checklist" at least one more time in this post!
3. FORMATTING – You want to assure that people can skim your article. We've become scanners more than readers. Help people scan.
As content marketers we must accept that very few people are going to read every word of our finely crafted copy. It's sad, but true. We can get folks to read more, however, if we break up our copy into small bites. Rather than big blocky paragraphs and long run-on sentences, we should strive for:
Headers and subheads: Ask yourself: If folks read only my headers and subheads, will they get the gist of the article? If to, you've succeeded!
Short paragraphs: Generally no paragraph should include more than 3-4 sentences. One sentence paragraphs can be used to add emphasis and break up lots of copy.
Bulleted lists and numbered lists: These are easy to scan and work well within almost any post.
Bold, Italics, Underline, Color: These are excellent ways to add emphasis and make content more easily scanned. Like anything else, moderation is the key.
4. LINKS

– You want to cross promote to your other media (e.g. your website pages and previous posts). You may also want to offer something beneficial to your constituents (e.g., links to news they can use, data, research, etc.).
As a content marketer, you should always have a goal. Mine is usually to have someone comment and tell me I provided something helpful. I love comments! Your goal may be to convert visitors to leads and leads to customers. If you're a fundraiser, you want to convert suspects to prospects and prospects to donors. To do so, you've got to connect the dots for people.
I recommend re-reading your post before you publish it to keep an eye out for words or phrases that could be linked elsewhere. For example, if you mention your 'innovative workshop' in your post, why not have that be a live link to your website where that workshop is described more fully? This will also help with your site analytics as it will increase your average pages per visit. You can also do this backwards, by going to older posts and finding places where you can link to newer content. Some day I'm going to find time to do this!
Sticking my neck out with a cute image
5. IMAGES – This is super important, and something I didn't know about when I started blogging. Just like formatting, images break up your copy and make it easier to read. Plus, you know what they say: a picture is worth…
Images are great because they make your post more likely to be shared. Plus you can share it yourself if you use Pinterest (which I highly recommend, as it's a great way to show a different side of yourself or your organization). If you'll please excuse the self promotion, I invite you to follow me!
I go through the post when I'm completely done; then add in images. It's actually a lot of fun. If you've got great original images, that's the best. But you can also use images from the internet.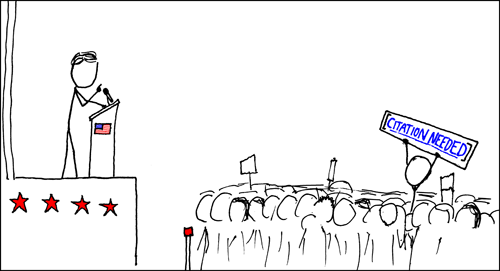 6. MENTIONS – If you're quoting others, or being inspired by others, it's good practice to give credit where it is due. Also, if you're quoting noted authorities, it adds to your credibility and makes it look like you "get it" and are "in the know."
Here is where I'd like to give a big shout-out to Andy Crestodina, Strategic Director at Orbit Media, who writes about content marketing (and has a content marketing checklist that's much longer than mine; plus a cool infographic!), search engine optimization and social media and knows a lot more about these topics than do I. Thanks Andy!
7. CALL TO ACTION – In marketing, there's something known as the "Desired Action Response " (DAR). You should always have one.
At the end of the post, ask your readers to do something. Maybe you just ask them to share the post. Or subscribe to your newsletter. Or ask them to sign a petition. Ask them to go to your website. Or simply ask them to leave a comment. Make sure it's a question however, and not a declarative statement. You want to invite your constituents to engage.
Was this post helpful? Do you have any other tips to add? Please share!